Friday, June 10, 2005
Cotton here...*Yaaaawwwnnn*... *Streeeettttcccchhh*... *Yaaawwnn* ... That's the problem with being a cat. We never get enough sleep. It's always do this, do that. Blogging is hard work. Well, it's time to Friday cat-blog. Mom is busy counting books, so I'm going to take a stab *zzzzzzzzz*
Mango here. That Cotton. He can walk across the floor and fall asleep. I pushed him off the keyboard so the cat-blogging can begin.
Just a few notes, though. Mom started writing down how many books she counted in each pile. Cotton knocked over a glass of water and while she was cleaning that up, Saddie and I knocked over the stacks of books and took the paper with the counted amounts. Saddie shoved it under the refrigerator. He's good like that.
Meoowww...Let's see what's going on...
It looks like mom gets E-mail - Here's one from Shakespeare's Sister:
Congressman Conyers has scheduled a Congressional hearing on the Downing Street minutes. Shakespeare's Sister's post and here's a link to The Raw Story article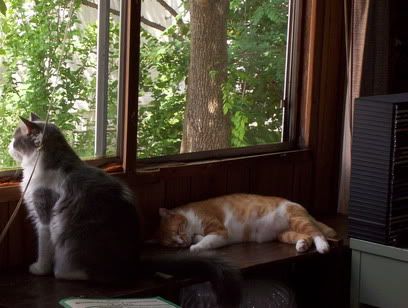 This is a picture of Saddie looking out the window - probably watching birds - and I'm sleeping.